Registration
now open

Learn More
DON'T STOP
UNTIL

YOU WIN

Learn More
Meet

Every
Challenge
Learn More
Stay tuned
for the next race!
The preparations for the Liberia Marathon 2002 are in full swing. Thousands of Liberian runners are thrilled to get back on the road. Once again, it will be a race from Liberians for Liberians, affordable and inclusive, welcoming all athletes, if young or old, female or male, amateur or elite, if in wheelchair or on crutches to the race.
Stay tuned on our Social Media Channels to get the latest updates!
Follow us on Facebook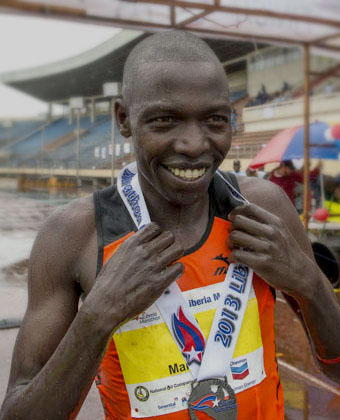 Liberia is pushing forward on the path to recovery and success. The Liberia Marathon symbolizes the difficult steps already taken, and the endurance required on the road ahead to reach our bright future of achievement together.
Learn More
Good luck to the Liberia Marathon. Through this marathon you can transfer a message of peace to all Liberians; this sport brings you peace, this sport brings you everything!
As Liberia continues to build its country anew, to create the future that its people deserve, this marathon is an embodiment of the spirit of peace, unity and achievement that is guiding your great country forward.
I train twice a week, I love to run. Joy is my name and when I run, I feel joy in my heart.
Liberia has made fantastic progress over the past few years; I'm a great supporter and admirer of the country. The Liberia Marathon gives Liberia a chance to show its unity, its progress, and to provide a day of excitement and opportunity for everyone.
Circling Monrovia City, the marathon course has slight changes in elevation and sweeping views of the city and ocean, making it one of the most unique on the international runners circuit.
Learn More
We need volunteers who are interested in helping with logistics, finance, sponsorship, event planning and every other area of holding a large-scale event.
Read More
Our Partners & Supporters
Congrats❤ to the Liberian athletes and the Liberia Athletics Federation (LAF) to succes at the 4th Mayor's Marathon…

https://t.co/HI5Z2bdIAE

Compliments of the season from the Liberia Marathon! ❤ We're still smiling remembering race day. Hope you enjoy a l…

https://t.co/Yz5KIOWTq8

Compliments of the season from the Liberia Marathon! ❤ We are still smiling when remembering a great Liberia Marath…

https://t.co/WsFct1pXle